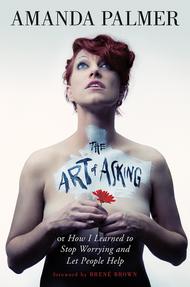 I'm new to the Amanda Palmer band wagon. (If you haven't heard of her, I suggest you check out her brilliant
TED talk
.) I've been following her on Facebook ever since I discovered the TED talk. She's pretty damn rad. I followed the buzz leading up to the release of her book "The Art of Asking".
Because I think she's amazing and open and honest and raw, and because of the incredible book cover that kind of says that she's all of those things, I figured I'd probably love the book. Money being what it is, I got on the library wait list as soon as it was available.
I'm not very far into it - just page 37, but my mind was kind of blown today, and it's because I feel so understood reading her book.
She was talking about people wanting to be seen and to be believed...
"I laughed thinking about every single artist I know... who had decided to forgo a life of predictable income, upward mobility, and simple tax returns, and instead pursued a life in which they made their living trying to somehow turn their dot-connecting brains inside out and show the results to the world - and how maybe it all boiled down to one thing:
BELIEVE ME
Believe me
I'm real
"Here's the thing: all of us come from some place of wanting to be seen, understood, accepted, connected.
Every single one of us want to be believed.
Artists are often just louder about it."
Yes. So good to feel understood! Looking forward to the rest of the book.